I am thrilled to introduce you to Anna James, the author of the bestselling children's book series Pages & Co.
Having spent her childhood with her head in a world of stories and her adult life in the literary world whether as a school librarian, a book reviewer for The Bookseller or as a book vlogger, Anna is never very far away from books; and she now brings her very own stories to life with her beloved characters Tilly and Oskar.
So without further ado, please make yourself comfortable, grab a hot chocolate and get ready to enter the magical world of bookwandering…
Whenever a child or parent comes into the bookshop and asks for a book recommendation for 8-12 year olds, I will inevitably put a copy of Pages & Co. – Tilly and the Bookwanderers into their hands whether it's for a girl, a boy, an avid bookworm or a reluctant reader. Ask any of my bookseller friends and they'll tell you that this is one of my favourites!
11-year-old Tilly lives in her family bookshop – Pages & Co. with her grandparents, situated in a corner of London. Being surrounded by hundreds upon hundreds of books is just how Tilly likes to spend her days; being lost in imaginary worlds is where she's happiest – whether it's with Anne in Avonlea, Alice in Wonderland, on a sea weathered voyage with pirates or a magical adventure with wands and broomsticks, Tilly loves immersing herself in them all. So when she begins her half-term holiday with a whole week of reading ahead of her, she gets ready to snuggle up with her books accompanied by the signature English rain tip-tapping on the window which often symbolises the start of October half-terms. But over the week she starts to notice some odd happenings; she can swear that some of the customers she sees in the bookshop are familiar and oddly like people she's read about…but surely that's just her imagination…or is it?
After discovering the magical ability (that only a handful of lucky people possess), Tilly and her best friend Oskar find out that they can bookwander. That's right – bookwander! With unlimited stories to visit and kindred spirits to meet, the two children are full of excitement and amazement at the wonderful discovery of being able to enter into the pages of their favourite books; but as the good old Spider-Man saying goes 'with great power comes great responsibility' and it soon becomes apparent that bookwandering may be a bit more of a tricky and dangerous business than what they had first imagined.
Alongside each other, their families and friends that they make along the way, Tilly and Oskar get wrapped up in some of the darker sides of these inky worlds and the characters that inhabit them, and before long they are forced to decide between what is right and what is easy. And with Tilly's own life wrapped up in stories in a way that she could never have imagined, the multi-layered stories that span across the adventures of the Pages & Co. books makes for an exciting, original and imaginative reading experience for readers young and old.
With it's own uniquely magical atmosphere Anna James's series has it all; adventure, friendship, family, twists and turns, villains, favourite literary characters and imagination by the bucketful. The pages of my copies are now well thumbed, highlighted and dog-eared from all of my reading and they never fail to give me a cosy getaway from the troubles of the real world. They remind us why we love reading and just how important books are in the world; and much like the delicious food mentioned throughout, the books contain the perfect ingredients of book magic – charm, kindness and courage. I only wish I could bookwander with Tilly and Oskar myself, but who knows, maybe we'll meet in Avonlea one day?
But now, without further ado meet the lady herself, the lovely Anna James!
It's safe to say that the Pages & Co. stories are one of my favourite children's book series in recent years. From the bookwandering to the characters themselves, the bookish references to the pure escapist adventure, I just love them. What inspired you to become a children's author and to write Tilly and Oskars story?
Thank you so much, it means a lot that the books have meant something to you! It's hard to trace one particular thing in terms of being a children's author. I do think that the books that had the biggest, most formative impact on me were the ones I read when I was between about 8 and 12, which definitely is part of the reason I love writing for this age. I've also always worked with books, including as a school librarian, which again just deepened my love for children's books. Having said that, I loved working with other people's books, and wasn't aiming to be a published author until I came up with the idea for Pages & Co. Again, that came from such a mixture of things; my love of books and bookshops, my relationship with my Grandad which was full of books, and just how much I'd love to meet Anne Shirley!
Bookwandering is such a wonderful idea and I know I'm not the only one to wish that I was a bookwanderer myself! If you could bookwander, where would you most like to go?
I mean the whole series is really just wish fulfilment, because it's the magical power I'd most like to have too! A lot of the books in the first book in the series are where I would go; Anne of Green Gables in particular. She's one of my all-time favourite characters and also Avonlea isn't as full of peril as some of my other favourites! Not to mention that I'd love to meet Gilbert Blythe!
Tilly's family bookshop Pages & Co. is simply idyllic. With cosy corners, squishy armchairs, baked goods and hot drinks, shelves upon shelves of books and decorations of festivities, all the while with a bookshop pet wandering around – it's just lovely. Was there a particular bookshop that inspired your imaginings of Pages & Co.?
Being able to invent my ideal bookshop was one of my favourite bits of writing Pages & Co. for sure. For the most part it's pulled from my imagination and what I think would make a perfect bookshop, but it's absolutely got touches from elsewhere. My childhood bookshop was Waterstones Newcastle, and I hadn't really realised how much it had influenced Pages & Co. until I went back recently. It has a staircase up the middle of the shop and is in a lovely building with lots of floors and a magical children's floor, which I've definitely borrowed from! I hadn't visited any of the Toppings & Co. shops before writing the books but have since and they are probably the closest real-life bookshops to how I imagine it in my head – especially the one in Edinburgh.
Throughout the many adventures in the books, we get to meet characters from well known paper and ink worlds. When researching for your books did you have a particular favourite book that you rekindled your love for or discovered for the first time?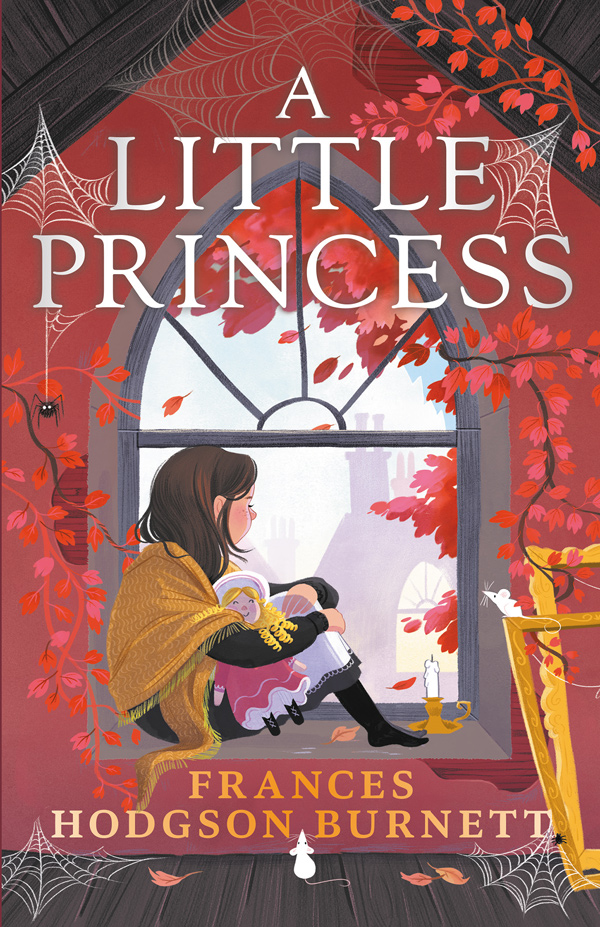 I reread a lot of books that are out of copyright when I'm writing, as you probably expect, and it's always interesting to see which ones hold up and which ones don't. For the key books in the series, I try to always make sure that I use books that I'm happy to point new readers towards. I must admit I gravitate towards the ones that mean something to me, and I reread Anne every few years, so I knew I still loved that. Same for Frances Hodgson Burnett and Alice, although slightly less frequently. I've moved on to books that were less beloved or familiar to me as a child now I'm on to book four, which I'm writing now, but I can't say which ones as it's a bit spoilery!
The Underlibrary is such a believable construct that you can almost believe it's really hidden deep under the streets of London. You reflect so well issues from our own world through it, such as accessibility, equality, diversity and power. How important is it for you to see these sort of issues spoken about in a safe way for children to discover and identify with?
I'm so glad, thank you! And I do sometimes get parents tell me that younger readers have asked if they can visit the British Library to try and find the Underlibrary! And then, I don't really see them as issues as much as real things that we all, including children, are either dealing with personally or see happening that I want to be reflected. With regards to power, I think that it's a pretty universal subject for children's book, but particularly with what is going on in the UK politically at the moment, I wanted to just gently introduce ideas and questions about who is in charge, how they get there, and what authority really means.
Throughout Tilly and Oskars bookwanderings we meet many an iconic character. What character or author have you most enjoyed writing so far from other bookish worlds?
I'm a bit of a broken record with questions like this, because the answer for any bookwandering questions is almost always Anne! I absolutely loved getting into her voice. It only really occurred to me afterwards that it was a bit of a big task, and I did worry about how Anne fans would react, but while I was writing it was just a treat. Anne feels like such a big part of me, and I've reread the first book (and watched the 1985 TV show) so many times, that it came quite naturally. Others have been much harder to get right! And in terms of worlds, it has to be Alice just because the Wonderland set pieces are just so wild and wonderful.
In Tilly and Oskars most recent adventure we travel to the USA where they are looked after by Orlando and his partner Jorge who are family friends of the Pages family. Not only are they bookwanderers but they're also owners of the bookshop The Shakespeare Sisters (which can I say, sounds incredible!), and in Tilly and the Lost Fairytales we go to wintery Paris where we meet some of Oskars family. Have any of your travels inspired any of your storylines or creativity?
Yes, very much so. I'm really inspired by travel and places I've visited, as well as photos of places I've not been to. I use Pinterest a lot to collect images, and follow lots of travel accounts on Instagram for inspiration. Both Paris and Washington DC are inspired by real life trips though. I live in London and so, in non-pandemic times, I'm lucky that it's so quick to get to Paris and it's one of my favourite cities in the world and it was always my plan to incorporate it. DC was a lot more serendipitous; I visited in 2018 when my boyfriend was working there and while there, we went to see the Library of Congress, which I've always wanted to visit. And when I saw the beautiful Main Reading Room, I knew I had to use it in the books!
We both share a kindred spirit in the literary form of Anne Shirley, and I loved the fact that she influences Tilly's journey along the way. Speaking as a lifelong Green Gables fan, have you a favourite Anne Shirley book or particular moment?
The first book will always be my favourite, and it's by far the one I've reread the most. And I'm a huge fan of the 1985 TV show too, I just think it's the most wonderful adaptation and Megan Follows is perfect as Anne. It's so hard to pick out favourite moments but rereading it as an adult it's some of the quieter moments that stay with me; particularly the relationship with Matthew and Marilla. It's a truly beautiful book.
What part of Tilly's story do you find the most fun to write?
It's not necessarily a specific part (although I always enjoy writing the bookwandering scenes) as the moments when I have, from the very beginning, a really clear picture in my head of a scene. So much of writing is sticky and difficult and problem-solving, but every once in a while you have something where you know exactly what you want to do, or a setting you can picture in every detail, and it just works.
The works of Shakespeare plays a large part in the third instalment – Tilly and Map of Stories. We get to experience a peak at The Globe, one of the finest theatres in London. Once we're out of the restrictions that we're currently in, what will be the first theatre show you'll be in the front row for?
I miss theatre so very, very much. As a spectator but also my partner is an actor, and I review theatre for The Stage, so we feel its loss very much in our household. I'm a big immersive theatre fan, and I yearn to dress up with my friends and go to a brilliant immersive theatre show! We have tickets for Secret Cinema's Dirty Dancing in the summer and I have everything crossed that it still goes ahead. But truly, I will go and see anything when we can!
In your book you write 'a bookshop is like a map of the world'. If you had to map out your favourite bookshops anywhere around the world which ones would be first on your list?
I've already mentioned a couple of these but Waterstones Newcastle means a lot to me, as does the independent bookshop I went to with my grandparents in the Scottish Borders (it's still a bookshop, but run by different people now). And Toppings & Co are some of the most beautiful shops. My local is Muswell Hill Children's Bookshop which is such an excellent children's indie if you're in north London. And then of course there's the classics like Shakespeare & Co in Paris, and Foyles on Charing Cross Road. I was also lucky enough to get to visit a lot of indies in the US when I was on tour in 2019 there; Tattered Cover in Denver was a big inspiration for Shakespeare's Sisters in Tilly and the Map of Stories, and McInytre's in North Caroline is one of the most beautiful bookshops I've ever seen!
What were your favourite books whilst growing up?
Aside from the obvious answer of Anne, I was and am a huge fan of Diana Wynne Jones, especially Charmed Life. The His Dark Materials trilogy was also hugely important to me, and I reread those every few years too.
We met when doing a day of school events last year which was full of very excited children, a little bit of getting lost between schools and lots of bookish chats. This year has lead to a stopper on school events for the time being but once the world is back on track again, what's the thing you're most looking forward to about getting back into schools and doing events?
Ah it was such a lovely day, the wrong turns and all! I miss doing school events a lot; they are absolutely exhausting but there's nothing quite like getting to meet loads of young readers and speak to them directly. I am most looking forward to hearing the absolutely wild questions you get at school events! I also miss getting to meet and spend time with brilliant booksellers like you!
As a children's bookseller it goes without saying that I love reading children's books. Having spoken to a lot of customers at work I know that a lot of adults enjoy reading kids books, often reading them long after the children have gone to bed. Yet sometimes there seems to be a level of embarrassment around adults reading kids books. How important do you think it is for adults to read children's literature, and why do you enjoy reading it yourself?
I just think that no reading should have any feelings of embarrassment or shame around it. It's always a shame when adults don't feel they can read children's books. CS Lewis said that a children's story that can only be enjoyed by children is not a good children's story in the slightest, and I'm inclined to agree! For me, some of the greatest stories were and are written for children. Having said that, while I think adults can get a lot from children's books, I don't think they should read them if they don't want to! Again, it's about reading for pleasure and without shame. There should be no embarrassment, but equally people should read what they are drawn to! I read whatever I am in the mood for and switch between all genres and age groups. Katherine Rundell is a lot more articulate about this though; and I would really recommend her little book, Why You Should Read Children's Books Even Though You Are So Old and Wise.
A little bright side to a very hard year is that we've had some fantastic books being published and lots of people discovering new authors. What's been your favourite books this year?
I actually just made a couple of YouTube videos (on my channel, A Case for Books!) about my favourite books of 2020 if anyone wants to see the full lists! The absolute highlight of my reading has been discovering Patricia Lockwood. I read her memoir, Priestdaddy, at the very beginning of 2020 and I think it's probably one of my all time favourites now. And then I just read her debut novel, No One Is Talking About This, which is coming out early this year, and it is just as remarkable. In terms of new releases, I really enjoyed The Liar's Dictionary by Eley Williams, Love After Love by Ingrid Persaud and Punching the Air by Ibi Zoboi and Yusef Salaam. In terms of children's books, some of my favourites of the year have been The Midnight Guardians by Ross Montgomery and A Secret of Birds and Bone by Kiran Millwood Hargrave. 
And finally, if you could spend a day with your characters, how would you like to spend it?
Such a hard question to answer! If I was in their world, I would obviously want them to take me to the British Underlibrary, and to go bookwandering to Avonlea! If they were in our world, I'd want to take them on a bookshop tour of London!
I hope you've enjoy this weeks blog and that you love the Pages & Co. series as much as I do if you choose to pick it up. I can really recommend the audiobook edition of the series too, read by the lovely voice of Aysha Kala. And I do hope that Tilly and Oskars adventures inspire you to discover more paper and ink worlds, for among pages of a book so much can be found! Thank you for reading and happy bookwandering!
If you would like to find out more about Anna you can follow her on Instagram, Twitter and on her YouTube channel A Case for Books where you'll find a myriad of bookish loveliness!
For more recommendations and bookish things you can find me over on Instagram @viewsfromabookshop
You know when you walk into a bookshop and you see all those thousands of books lined up in front of you? That intoxicating feeling of knowing that behind each cover is a different world to explore, like thousands of tiny portals? That adrenalin rush just before you open a new book? The thrill of being surrounded by fellow book lovers? That is what fuels bookwandering, and it comes to life in bookshops.

Page 207, Pages & Co. Tilly and the Bookwanderers by Anna James